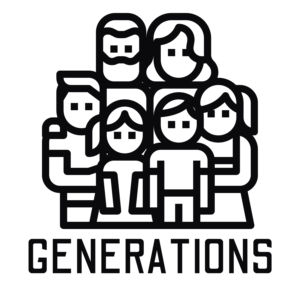 If you are from generation A, B, C, or X, Y, Z... or if you consider yourself to be young or old or in-between, please join us twice a month for a time of food, fellowship & fun!
Generations will return in September!
3:30-5:15: Kids Workshop

---
Generations (All Ages/The Whole Family)
5:30-6:30pm Shared Dinner

---
6:15-6:30: Memory Verse

---
6:30-7:00 Testimony/Guest speaker

7:00-7:30 All Church Activity
WHEN?
1st and 3rd Thursday of each month
WHY?
This is a time for all the GENERATIONS in our church to come together as a church family for the purpose of mutual encouragement and building one another up in love. A time to learn from one another and grow with one another as we seek to follow Jesus each and every day.
WHAT WILL THE NIGHT LOOK LIKE?
5:30-6:30 - Potluck Dinner
6:30-7:00 - Devotional
7:00-8:00 - Activity Time For All
BONUS!
From 3:30-5:00pm, workshops will be offered for your children at the church. Come and learn with some practical skills from gifted individuals. All ages welcome!